With a focus on durability and reliability, our control units have been used in machine and plant engineering for many years. Here you will find some examples of extremely powerful control computers – all designed for demanding use in vehicle or plant construction. The devices have high computing power, can basically be networked via CAN and preferably work together with our operating devices. The mechanical design: robust aluminum housing
Please note: The products shown here are part of our current product family and usually developed for specific application scenarios. If needed, we can gladly make design changes for you and develop the necessary software to meet changed requirements. If you are missing functions or features for your application, please do not hesitate to contact us. We will gladly try to meet your requirements with adaptations of existing devices or new developments!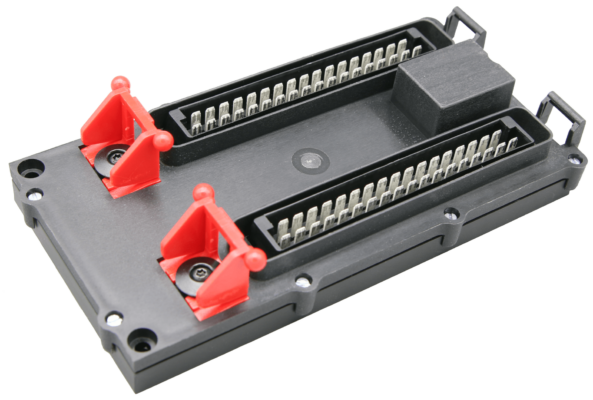 Balercontrol IV
BC4SG
The Balercontrol IV control unit is a powerful universal control unit for agricultural machinery. With numerous sensor inputs, actuator outputs and a central computer unit, it can also be easily adapted for various other tasks. Full encapsulation of the electronics enables durability even under mechanically demanding conditions. The communication to the outside can be done via RS232, CAN or ISObus if desired. In combination with our operating devices, it shows its full strengths.
Technical specifications
Downloads
Technical specifications
Communication via CAN, ISObus and RS232
20 input channels, 9 of them analog capable with switchable load
8 switching outputs, 4A (opt. 20A), PWM
30MHz processor
3 MByte program memory
1 MByte RAM
64MByte (opt. 128MByte/ 256MByte) non-volatile data memory
Temperature sensor
Electronics in full encapsulation
Downloads

iRCP
Electronic hydraulic controller
With the iRCP we open our Balercontrol for you! It is equipped with a dual-processor system and can be programmed with the iRCP software development environment under ScicosLab for model-based software development with open-source tools. An ARM M4 processor provides sufficient computing power. 16 sensor inputs, 16 actuator outputs with up to 10A and communication via RS232, CAN and USB offer a lot of application possibilities.
Technical specifications
Downloads
Technical specifications
Dual processor system with 32bit ARM M4 processor
Communication via RS232, CAN and USB
8 power outputs high-side switching, PWM-capable, 4 of them with current measurement
8 power outputs low-side switching, PWM-capable, can be coupled to H-bridges
16 analog/digital inputs with 10Bit resolution and switchable load for ind. Namur sensors
4-fold sensor supply adjustable via software
USB/Multi-CAN capable
Electronics in full encapsulation
Downloads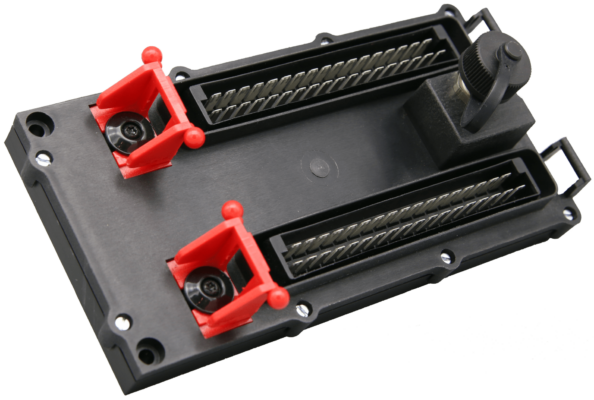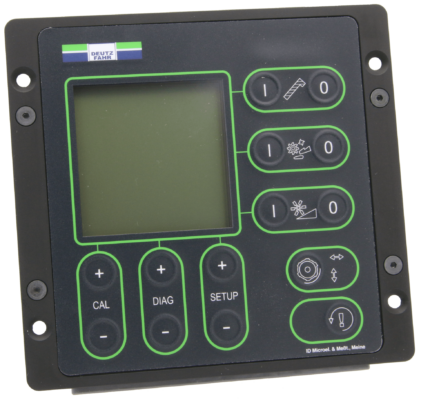 Commander Control 2000
CC2000
The Commander Control 2000 combines an operating and control unit and has been specially developed to control combine harvesters. With numerous inputs and outputs, as well as CAN and RS232 communication, the CC2000 is the central interface between man and machine. To ensure that the operator is not left in the dark at night, the display and membrane keypad are of course backlit.
Technical specifications
Downloads
Technical specifications
C167 processor system with 512kByte program memory and CAN/RS232 communication
Monochrome display with 160×160 pixels, backlit
44 High-side switching outputs
36 Digital inputs
4 analog inputs
5V sensor supply
Downloads

Balance
Electronic spirit level (2-axis)
The Balance is designed for automatic leveling of combine harvesters when driving on slopes. The device measures the inclination of the vehicle with our semiconductor inclinometer, calculates necessary corrective measures via a built-in powerful computer and directly initiates corrective measures via the connected hydraulics to always stabilize the vehicle in the horizontal position even on uneven terrain.
Technical specifications
Downloads
Technical specifications
reliable inclination measurement via semiconductor inclinometer
Powerful 16-bit µP system (C167)
22 load channels in various configurations for the control of lamps, valves, relays, etc.
14 A/D inputs
Communication via CAN and RS232
Computer encapsulated in sturdy full metal die-cast housing (IP67)
Downloads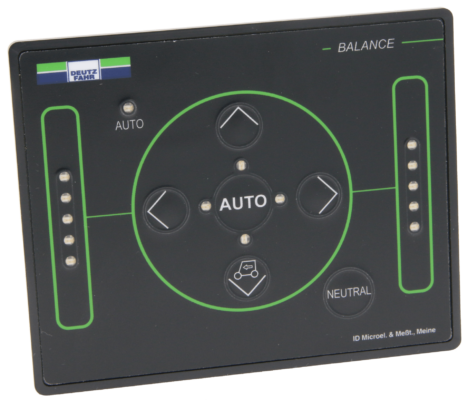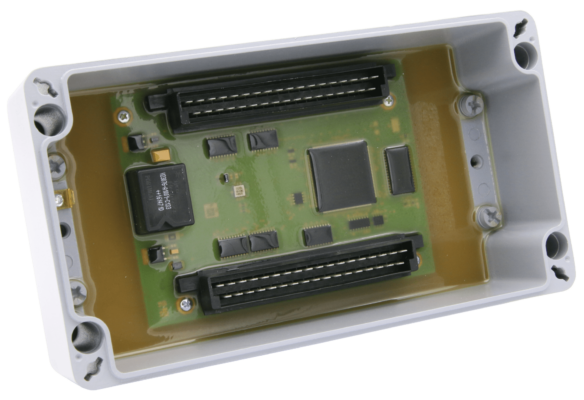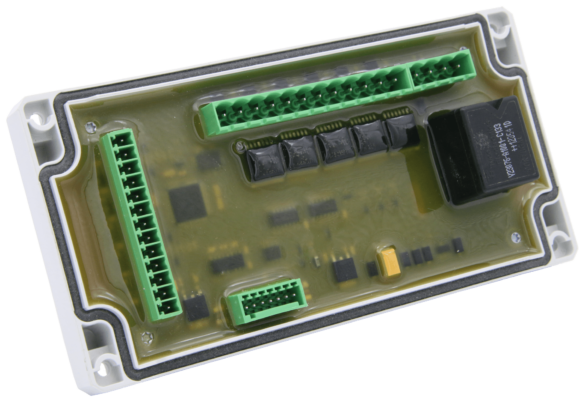 SG Light
Low cost electronic control unit
Our SG Light shows that tailor-made does not have to be expensive – specially developed for the control of machines in the agricultural sector, its range of functions is reduced to the bare essentials and thus offers a low-cost option with six inputs and outputs each.
Technical specifications
Downloads
Technical specifications
Compact, robust design due to potting in standard housing
CAN-capable 8051 processor
6 inputs/outputs each
Communication via CAN and RS232
Downloads

CAN Micro Module
Minimalism. With CAN.
Our CAN Micro Module is a satellite computer for the cost-effective extension of CAN networks. This device can be used to implement a system expansion in an existing CAN environment particularly cost-effectively and easily. The device can also be used advantageously for simple stand-alone applications. The CAN module is currently available in two versions: As a simple control computer with 8 A/D inputs and 4 actuator outputs or optimized for use as an H-bridge for motor control.
Technical specifications
Downloads
Technical specifications
8-bit microcontroller (8051) with CAN/RS232 communication
4 high-side load channels
7(8) Analog/digital inputs.
Optional sensor supply
Electronics encapsulated in robust aluminum milled housing (80*66mm²)
Variant available for connection as H-bridge e.g. for motor control
Downloads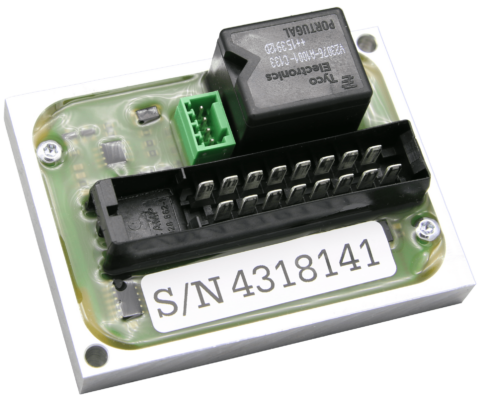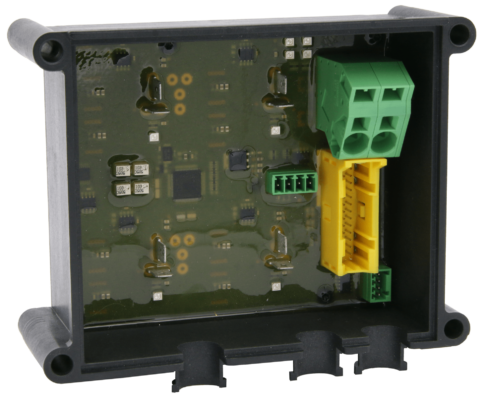 CCP3
Linear motor control / load switching device
The CCP3 is designed to control 4 motors (50 amps each) with forward/reverse operation. The current consumption of each motor is measured individually. When a preset limit current is reached, the motor is automatically stopped by the integrated microprocessor control. This allows belt couplings to be engaged with reproducible belt tension or the end stops of the motors to be detected.
Technical specifications
Downloads
Technical specifications
XE162 processor system with CAN/RS232 communication
Control of 4 motors (50 amp MOSFETs) with forward/reverse operation.
Temperature monitoring of each H-bridge
Current measurement per motor in the range +/- 50A
4 digital inputs and 8…12 analog inputs with 12bit resolution
Sensor supply adjustable via software
Electronics in full encapsulation
Control by switching signals or via CAN
Downloads

CC
Control/operating device for main couplings (long device)
It is so compact that it can be installed in the armrest of a driver's seat (current application in a combine harvester) (30*10*140 mm³), and yet this device houses a full-fledged microprocessor control with 10 switching outputs, 8 switching inputs, control of membrane keypad (6 keys) and 2 integrated display LEDs.
For maximum resistance to external influences, the electronics are encapsulated in a robust milled aluminum housing.
HLC
Reel speed controller (short device)
A complete microprocessor-controlled speed controller in the manner of an "electronic gearbox" is integrated here in a robust aluminum milling housing measuring only 10*30*104 mm³. The device takes over the acquisition of the speeds, the calculation of the control algorithms and the control of the adjustment hydraulics.
The driver can specify the desired variable speed ratio via external controls.